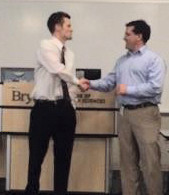 Matt Hilgers accepting the 2015 Nebraska Perfusion Society scholarship from NPS President Jeff Nichols.
Article submitted by David Holt
The annual Nebraska Perfusion Society meeting was held this weekend (February 28th) in Lincoln and, as usual, our students shined! All eleven Clinical Perfusion first-year students made presentations to the audience on subject matter developing into their Masters theses. Additionally, second-year student Devin Eilers presented our research entitled "Emboli Production in Hardshell Venous Reservoirs at Low Reservoir Levels."
The 2014 Nebraska Perfusion Society Scholarship winner, Kevin Hagemann, presented our study "Autotransfusion Suction Line: A Comparison of Types and Effects on Blood Collected." The 2015 Nebraska Perfusion Society $1500 Scholarship winner was Matt Hilgers.
During the annual business meeting, the NPS membership voted to continue financial support to the UNMC Foundation for the Clinical Perfusion Education department at $3000/year. Wow!
We are SO fortunate to be supported by such a wonderful group AND I am SO proud of every one of our students! They represent UNMC and the School of Allied Health Professions well!