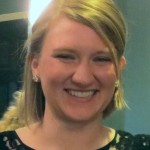 Third-year physical therapy student, Anne Woodruff, is the recipient of the Midwest Deans 2014 Legacy Scholarship. She is the first-ever recipient from UNMC!
This scholarship program was established to honor the legacies of current and former deans and directors of the Midwest Association of Allied Health Deans of Academic Health Centers. The scholarship is awarded to students with at least one term or semester remaining in their professional area of study who possess professional and interpersonal qualities that indicate they are likely to establish their own legacies of excellence in service, teaching, and/or research in the allied health professions.
Only two of these scholarships are awarded each year, are restricted to member institutions of the Midwest Association (of which there are 18 universities), and are limited to one per institution. Criteria for selection include involvement in service and interprofessional activities, as well as demonstrated leadership.