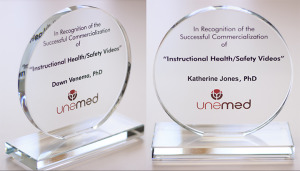 Katherine Jones, PT, PhD, and Dawn Venema, PT, PhD received a 2014 Innovation Award for licensing a webinar produced for the CAPTURE Falls project: "Best Practices in Safe Transfers and Mobility to Decrease Fall Risk." They were recognized at the UNeMed Innovation Award Ceremony last week.
CAPTURE Falls stands for Collaboration And Proactive Teamwork Used to Reduce Falls. The safe transfers and mobility webinar is one of a series of educational webinars created to support fall risk reduction teams as they implement and sustain evidence-based changes in the structure and process of their fall risk reduction program.
Congratulations, Drs. Jones and Venema!