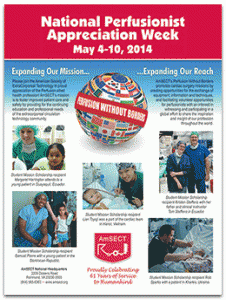 Don't want you to miss any of the great things going on in the SAHP!
Here are a couple of great SAHP stories from this morning's UNMC Today:
Fall prevention the focus for Katherine Jones, Ph.D.
RSTE faculty, students nearly sweep state awards
In addition, it's National Perfusion Appreciation Week, May 4-10, 2014. The profession was born 61 years ago, this week! Our perfusion program director, David Holt, started an annual celebration when he was President of AmSECT. If you look closely at one of the photos on the poster (I know it's tiny), it's one of our CPE students (Kristie Steffens) with her dad, Tom Steffens.
To all of the perfusionists in the world celebrating the anniversary of cardiopulmonary bypass, we are forever grateful for your hard work and commitment to excellence. On behalf of the thousands of patients you serve daily, thank you for all that you do.