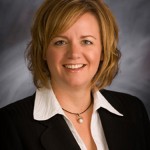 At the recent Physician Assistant Education Association's (PAEA's) meetings in Memphis, TN, Stephane VanderMeulen, MPAS, PA-C, assistant professor in the division of PA education, was elected president-elect for the national association.
PAEA is the only national organization representing physician assistant education in the United States. Currently there are 181 accredited entry-level programs in the country and all are members of PAEA. The association provides services for faculty at its member programs, as well as to applicants, students, and other stakeholders. PAEA provides effective representation to affiliated organizations involved in health education, health care policy, and the national certification of PA graduates. PAEA works to ensure quality PA education through the development and distribution of educational services and products specifically geared toward meeting the emerging needs of PA programs, the PA profession, and the health care industry.
Stephane will begin a three-year series of terms, moving to President of PAEA next year, and Past-President the following year.