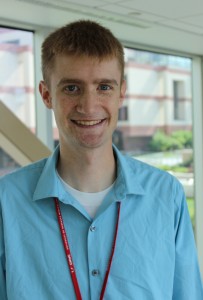 Kevin McGuire, MLS(ASCP)CM, the Student Laboratory Coordinator for Clinical Laboratory Science Education. He worked the past two years as a medical laboratory scientist at the Nebraska Medical Center in the microbiology laboratory. He attended college at South Dakota State University before completing the CLS program at UNMC in 2011.
Kevin was born and raised in Omaha. He's getting married in September of 2014. When he's not at UNMC, he enjoys working at TD Ameritrade Park and Werner Park. He loves to watch sports, especially St Louis Cardinals' games.
Welcome aboard, Kevin!