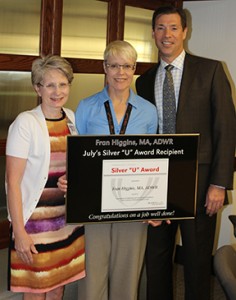 Fran Higgins, MA, ADWR, is a recipient of the Chancellor's Council Silver 'U' Award for July 2013. The award recognizes UNMC's strong consistent performers, whose daily contributions or special achievements help meet UNMC's mission.
This is Higgins' second Silver 'U.' Her first was in April 2005.
l-r) Dr. Katherine Jones (one of the nominators), Fran Higgins, and Dr. Kyle Meyer, dean of the SAHP.