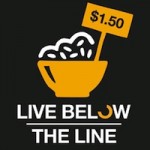 I've been living on $1.50 worth of food per day since Monday and will continue through Friday…by choice. 1.4 billion people currently live below the poverty line and don't have a choice. In today's world, extreme poverty and inequality are unjustifiable and unfair.
Live Below the Line demonstrates the problem in a concrete way, while raising money to address the problem. Support me as I live below the line by donating now – your generous support will go towards fighting extreme poverty. My goal is $250 by Friday afternoon and every dollar helps.
This has been an eye-opening experience for me and I would encourage everyone to give it a try for one day — $1.50 for the whole day. You can donate your savings!
Thanks,
Fran Higgins