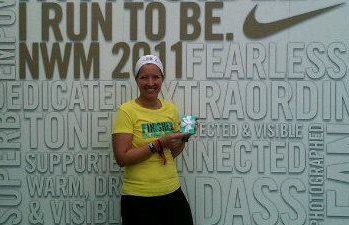 Tanya Custer, MS, RT(R)(T), instructor in Radiation Sciences Technology Education just returned from running the Nike Women's Marathon in San Francisco on October 16th.
"I'd rank it up there with having kids," said Tanya. "It was amazing!" It didn't hurt that at the end of the race, the runners were presented with Tiffany necklaces by local firemen. 🙂
One of 22,000 runners, Tanya's time for the 26.2 mile course was 5:03:00. She has been running since January, but started training for this race in May with a half marathon.
Since 2002, Nike has teamed with the Leukemia & Lymphoma Society's Team In Training (TNT), the world's leading endurance sports charity training program. Participants raise funds to support lifesaving cancer research.