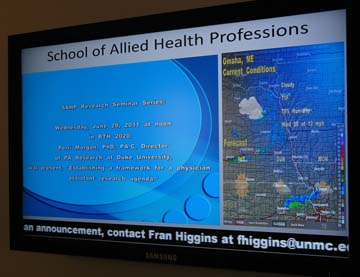 I'm excited! Part of the plan, when we moved into Bennett Hall, included closed circuit monitors in the hallways in order to keep everyone in the school better informed.
That communication strategy finally came to fruition. It's taken a little time to get them installed and working properly, but floors three through six of Bennett now have a monitor.
Make these work for you. Tell us what you need to know!
If you have announcements, please send them to Fran Higgins at fhiggins@unmc.edu to post. Likewise, contact Fran to report any problems with the monitors.