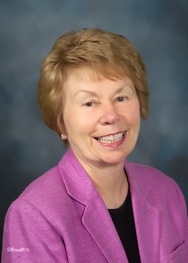 A surprise was unveiled at the AACC Annual Meeting on Saturday, July 18th in Chicago. The AACC Management Sciences Division awarded Associate Dean Emerita, Mary C. Haven, MS, FASAHP, the Outstanding Contributions to Management Sciences Award.
This award is presented each year at the Division's Annual Leadership Seminar. "Mary has been instrumental in the past success of the Division and we would like to honor her," said Stephen Manzella, Ph.D., Director of Clinical Chemistry, POCT, & Support Services at WellSpan – York Hospital in York, PA.
Established in 2001, this award recognizes the achievements of an individual who has made outstanding contributions in the field of management sciences in the clinical laboratory/healthcare industry. It consists of a suitably inscribed plaque or certificate and a cash award.
SAHP Associate Dean, Kyle P. Meyer, PhD, PT, was not surprised to see Mary honored with this award. "Mary is very deserving and I'm delighted to see her recognized for her outstanding contributions," he said. "She has significant knowledge of management and displayed excellent leadership during her tenure as Associate Dean of our School of Allied Health Professions."
Among Mary's many important accomplishments is a recently developed online Clinical Laboratory Leadership and Management Certificate Program through the AACC
Congratulations, Mary!
n Gp