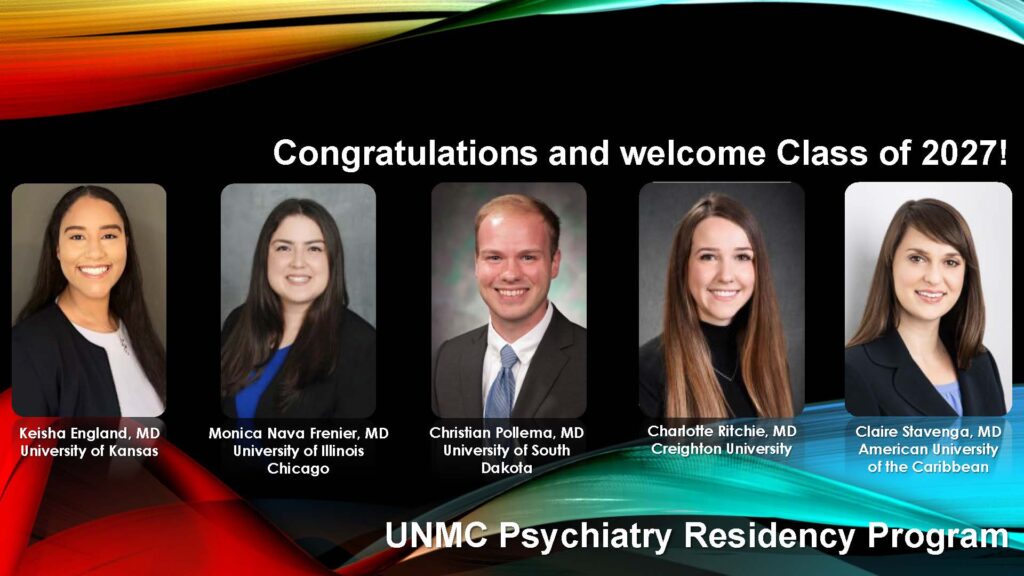 On March 17, the UNMC Department of Psychiatry welcomed five new residents, bring the program's total to 18 starting in July. Two current PGY-3 residents will leave the program to participate in the "fast track" child and adolescent fellowship.
Keisha England, MD; Monica Nava Frenier, MD; Christian Pollema, MD; Charlotte Ritchie, MD and Claire Stavenga, MD, will join the department this summer.
Department of Psychiatry Education Director Daniel Gih, MD, said this class came from a large group of applicants that has achieved academic success in medical school. Gih said 20 applicants were part of the AOA or SSP academic honor societies. Nine of those 20 interviewed with UNMC. In 2020, none of the applicants had AOA or SSP honors.
"On paper, this is our strongest academic class," Gih said. "This group comes from the most academically accomplished and diverse group of applicants. We interviewed many candidates who could have easily gone to other institutions. We were very competitive this year."
The residents come to Omaha from all over the U.S. and Caribbean. Dr. Ritchie will graduate from Creighton University. Dr. England (University of Kansas), Dr. Nava Frenier (University of Chicago) and Dr. Pollema (University of South Dakota) comes from the Midwest, while Dr. Stavenga will graduate from American University of the Caribbean.
Dr. Nava Frenier and Dr. Stavenga are bilingual. Dr. Stavenga is also the new program's first International Medical Graduate (IMG).
"The residency team extends their appreciation for this year's group of interviewers who helped us recruit another great class," Dr. Gih said.
In the last four years, 20 students have matched with UNMC Department of Psychiatry Residency Program. The program has also welcomed two transfers. Two residents have already matched into competitive fellowships. Michaelyn Everhart, MD (University of Colorado) and Zach Rupp, MD (University of Cincinnati) will begin Child and Adolescent Psychiatry fellowships this summer.