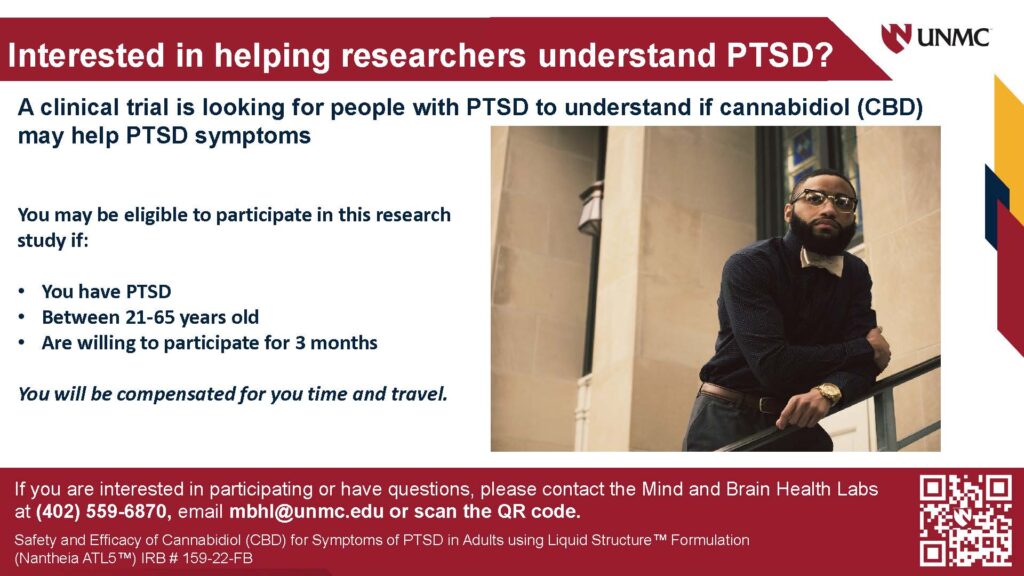 The UNMC Department of Neurological Sciences (DONS) and the UNMC Department of Psychiatry are collaborating on a research project to see if an investigational form of cannabidiol (CBD) can help people with Post-Traumatic Stress Disorder (PTSD).

The clinical trial will enroll adults with PTSD to understand if cannabidiol (CBD) is safe and effective for PTSD symptoms. Eligible participants who have been diagnosed with PTSD, are between 21-65 years old, and be able to participate for three months. Participants in the study will be compensated. The study uses an investigational formulation of CBD.

The study will recruit a large number of participants and will continue to gather data for a few years. In addition, quality of life and measures of life space are being collected. Participants will wear a Fitbit for three months and will also have the opportunity to participate in optional studies looking at driving behaviors and fMRI.

Any interested and qualified participants can contact the Mind and Brain Health Labs at (402) 559-6870 or by email mbhl@unmc.edu to get additional information.

The research study, titled "Safety and Efficacy of Cannabidiol (CBD) for Symptoms of Post-Traumatic Stress Disorder (PTSD) in Adults using Liquid StructureTM Formulation (NantheiaTM ATL5)," will begin enrolling subjects in December 2022. Rocky Esteraich, MD; Justin Weeks, PhD; Brigette Vaughan, MSN, APRN-BC, NP; and Pre-Doctoral Intern Aisha Yapp are behavioral health specialists on the project. Matthew Rizzo, MD, Professor and Chair of the Department of Neurological Sciences, is the primary investigator on the study. In addition, Jennifer Merickel PhD, Assistant Professor in the Department of Neurological Sciences, and Tammy Jackson and Elizabeth Vlock, Clinical Study Coordinators with the DONS Mind and Behavior Health Labs, will support the project.
Dr. Esteraich said PTSD is a significant problem and finding ways to improve recovery is essential.
"Unfortunately, trauma is very common," Dr. Esteraich said. "In addition to psychotherapy, several current medications have been shown to improve symptoms of PTSD but treatment response is often incomplete, or patients experience unwanted medication side effects. We need other options and CBD may be one of them. Early studies suggest CBD has relatively few side effects and may provide benefit to those living with PTSD symptoms, but we need to know more and there is currently a lack of controlled clinical trials."