Jennifer Bull was honored with the Silver 'U' award for her work as the communication coordinator for the Behavioral Health Education Center of Nebraska (BHECN).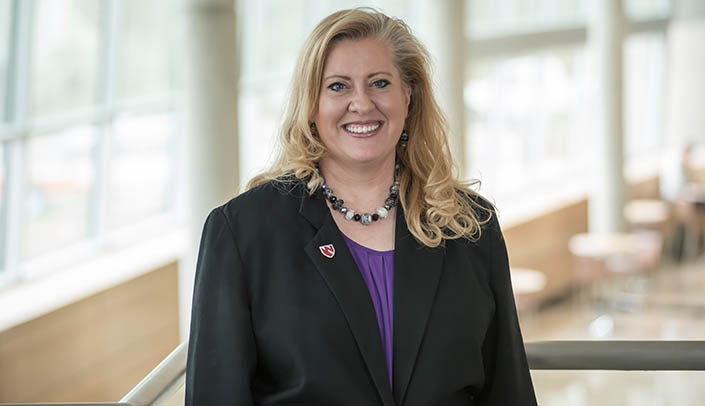 BHECN Director Marley Doyle, MD, nominated Bull and said she played a huge role in BHECN's success in 2021-22.
"Jennifer is an integral part of BHECN," Dr. Doyle said. "This year, she has done everything from legislative reports to app development to strategic communication and everything in between. Her work is outstanding and has helped elevate BHECN's profile. We're so proud of her!"
Bull joined BHECN in June 2018. She is responsible for developing the communications strategy, including maintaining the BHECN website, producing social media messages, writing copy for the e-newsletter, maintaining brand standards, and helping BHECN present a clear message about building the behavioral health workforce in Nebraska.
"Receiving this award is incredible, and I feel honored to be recognized for something I love doing every day," Bull said. "The work we do at BHECN is very important to Nebraska and the behavioral health workforce, and I'm happy to be a part of building awareness. I couldn't do what I do without the team's support at BHECN, and I owe them my thanks and appreciation."
Bull holds a Bachelor of General Studies degree with a major in communications from the University of Nebraska at Omaha. She recently completed the Executive MBA certificate program at UNO. She is a member of the Public Relations Society of America (PRSA) and the Omaha Press Club.