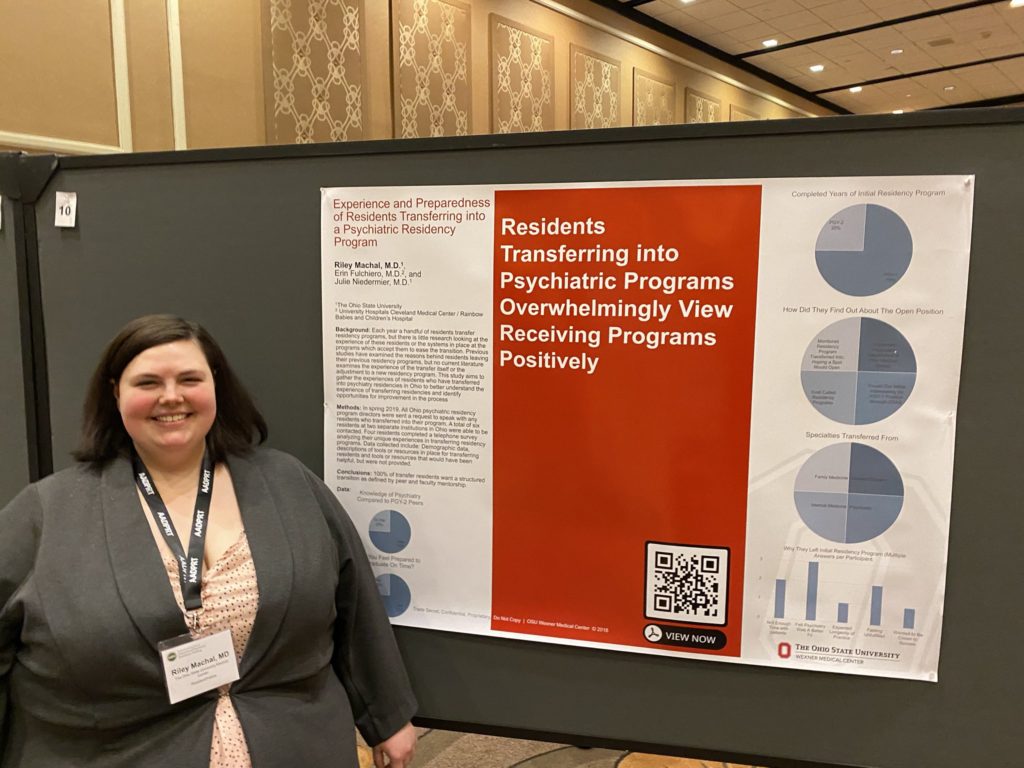 Dr. Riley Machal will be joining the UNMC faculty as an instructor on July 31, 2020.
Dr. Machal graduated from UNMC and will arrive in Omaha shortly after finishing her residency at the Ohio State University Wexner Medical Center. She said her time at OSUMC prepared her well for a career in psychiatry.
"Residency at OSUMC is intense with extensive training in the diagnosis and treatment of mental illness in a variety of healthcare settings, including the emergency department, hospitals, and outpatient settings," Dr. Machal said. "The attendings I worked with encouraged independence and were excellent teachers."
As much as Dr. Machal enjoyed her time in Columbus, Ohio, she felt the urge to return to Nebraska and UNMC.
"I always knew I would return to Eastern Nebraska upon completion of residency to be close to family," Dr. Machal said. "Having gone to medical school at UNMC, returning for my interview felt like coming home. I was very impressed with the many changes being made in the department of psychiatry and was attracted to the opportunities available."
Dr. Machal hopes to work with patients dealing with serious and persistent illness (SPMI), which includes major depression, bipolar disorders, schizophrenia, and borderline personality disorders."
"There were just a lot of great opportunities for me at UNMC," she said. "I'm excited to be involved in the new residency program, medical student education, and expanding care for the SPMI population."
Dr. Machal said psychiatry is a unique field of medicine in which we genuinely care for the whole person. "During my surgical internship, I found I was not fulfilled with the limited patient interactions and chose to switch specialties to psychiatry where I was able to get to know my patients and make lasting differences in their lives," she said.