Registered Nurse
Julie has worked in psychiatry since 1985 with the last 11 at Nebraska Medicine. The Omaha native was one of five members of the Department of Psychiatry to be awarded the William H. Roccaforte Citizenship Award.
Why did you choose to become a nurse?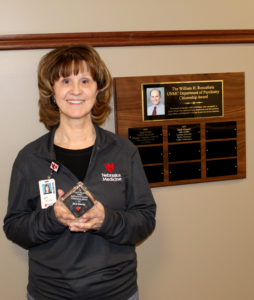 Growing up, my friend's mother was a night nurse. She would come home in the mornings, telling us about her work. She told us about helping people of all ages, ethnicities, and genders. I was impressed by her independence and by her showing me that I could have a career and family, which was something different than most of the generations of women in my family before me. Nursing offered many options for me to explore in caregiving and career choice.
What do you like about psychiatry?
My first position as a nurse was working in an adolescent dual diagnostic unit, treating patients with dependencies and underlying issues. It opened my eyes to caregiving for the mind and body. Psychiatry is interesting because the days are never the same. It can go from a very intense situation to providing the basic necessities for someone to get through their day, such as a bus pass. Patients and their families are usually very appreciative of the care they receive. It's amazing how much change you can affect in someone's life.
What were your thoughts when you heard you received the William H. Roccaforte Citizenship Award?
I had the pleasure of working with Dr. Roccaforte for several years in the Geriatric and ECT units. He had a very positive impact on his patients and their families and always involved the team in inpatient care. I hope I have had some of the same results in my career. It is an honor to receive an award named after Dr. Roccaforte, for whom I had so much respect.
What are the favorite parts of your job?
I enjoy the problem-solving aspect of my job – from caregiving to logistical problems to family or relationship issues to de-escalating situations. The best part of my job is when patients come back and are able to share how much we as a team have made a difference in their lives.
What are some of your hobbies?
Being a recent empty nester, after being very involved in my children's lives and trying to prepare them to be successful in their lives, I am looking for new opportunities for involvement in the community. I enjoy working in the yard, spending as much time as I can with my family, and looking forward to the next phase in my life.