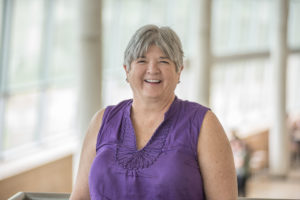 Barbara Harrison has worked in the UNMC Department of Psychiatry for the last 23 years. Along with her role as a medical scheduler, she also helps organize the annual July picnic and the fall event at Vala's Pumpkin Patch.
What is your role in the Department of Psychiatry?
My title/job is Medical scheduler. When I started I was phone and front desk. As we grew, I went to scheduling on the phone. I also do the Board of Mental Health paperwork.
Why do you love working in the Department of Psychiatry?
I love that I can help people. Not just our patients, but others in our department. Since I started here in August 1996, I have seen a lot of changes and a LOT of growth.
Why do you continue to help organize the staff event at Vala's?
The Department has been going to Valas since 2010 and each year we grow! 187 people signed up this year! That is exciting!
What are some of your hobbies?
I have been square dancing for 45 years and received my 45-year pin dancing at Iowa State Square and Round Dance conventions. I have been married to my husband Terry for 42 years. Terry teaches square dancing and I teach line dances. We have been the chairpersons for two of Iowa Square Dance Conventions. The last convention that Terry and I chaired was at the Mid America Center, From April 15 to October 15 you will find us on the weekends at "Our Happy Place". We own lots and have a 5th wheel with a porch attached at Woodland Campground in Little Sioux Iowa. We love it and hate to close it up for the winter. On nice weekends in the winter, we do go up and have a fire and hang out. I started a Bunco group in 1996 and we are still going strong! I am very active in our church, on committees and chair for the Faith, Family, fellowship, and fun. Terry and I have three Rescue dogs: Lillie, a Yorkie, Chloe is a beagle/Dachshund mix and Princess is a 3-year-old Yorkie.