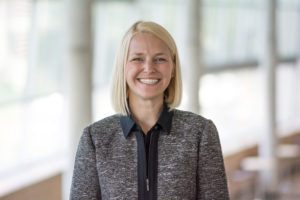 Maggie Emerson, Advanced Practice Practitioners (APPs) Lead for the Department of Psychiatry, co-authored a journal entry on "How a Health Center Eliminated the Waiting List for Psychiatric Services."
Emerson wrote the article with Shannon Kinnan, M.D., John Kern, M.D., and Anna Ratzliff, M.D. The article appears on Psychiatryonline.com.
"Improving access to psychiatric care is a huge challenge regardless of where you practice," Emerson said. "Exploring innovative strategies to enhance psychiatric access to care for those in need is essential."
The research project was based in a Midwestern federally qualified health center (FQHC) comprised of a large main campus medical home and seven satellite clinics. Health center staff included 19 M.D.s, 32 midlevel practitioners, and 12 behavioral health therapists. In August 2014, the waitlist to see a psychiatric provider at the FQHC consisted of 350 patients. At this time, the clinic began focusing on QI for access to psychiatric services and contracted with a local academic facility to provide 8 hours of psychiatric care per week. A team consisting of the chair of psychiatry, the chief medical officer of the FQHC, the behavioral health director of the FQHC, the contracted faculty psychiatrist working at the site, and, later, the residency program director met two to four times a year to address improving access.
Key strategies used in an effort to reduce the waitlist included the psychiatric collaborative care model (CoCM), a transition from traditional care to a one-time consultation clinic, e-consults, quarterly PCP education in psychiatry, availability of a mental health patient navigator, a psychiatric consultant available by cell phone, and regular review of the waitlist. After three-years, a 350-person waitlist was eliminated.
Emerson, APRN, PMHNP-BC, said she was surprised at how open the clinicians were to this new delivery model of care as it is a clear departure from traditional outpatient delivery methods.
"Also, not surprisingly but more so reaffirming, was the importance of using continued quality improvement efforts to explore the effectiveness or lack thereof, of implementation strategies," Emerson said. "If you don't take the time to examine what is working and what is not, you may never reach your full potential."
Emerson added that many of the lessons learned from the collaborative care concepts and the model itself informed the efforts that Nebraska Medicine is utilizing to improve access to mental health care within the organization.
Along with her recent publication, Emerson was also recently selected to be a member of the American Psychiatric Association's App Advisor Expert Panel.