Emily was born and raised in Omaha. She graduated from Xenon International with a degree in Cosmetology. Emily joined the Intensive Outpatient Program in 2018 as the IOP's first medical
receptionist.
Why did you choose to work for the Department of Psychiatry?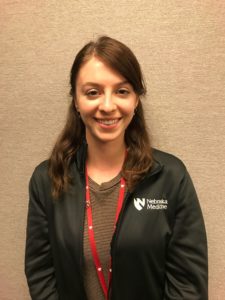 I chose to work for psychiatry when my previous employer closed their Omaha location. I interviewed at a few different places, but once I met with Maggie and Cindy I knew this would be the right place for me. This is my first medical job and I'm very thankful to have this opportunity! I had no idea how much I would love it.
What are your duties with the Intensive Outpatient Program?
My duties within the IOP include coordinating the referrals that come in, scheduling, tracking data for the clinic, and taking care of the ins and outs of the front desk. I also help in the Addiction clinic. As these clinics are evolving and expanding, my duties are as well.
What are the main goals of the IOP?
The main goal of the IOP is to help support individuals with co-occurring disorders who require more support than weekly or monthly outpatient services provide. We assist patients in finding the strength and skills to achieve sustained sobriety, and provide medication assisted treatment to help support in increasing their success rate of sobriety.
What do you like about psychiatry?
Seeing our patient's improvement. Since the IOP is four days a week for six weeks, we see them almost daily and it's so encouraging to see their growth and improvement from when they began the program and when they graduate
What are some of your hobbies?
Anything nature related! I have a love for plants and a huge green thumb. I love to be outside whether it's running, hiking, gardening, you name it.