Dr. Sheritta Strong has been honored with the 2019 College of Medicine Early Career Achievement Award.
The award is given by the UNMC College of Medicine Alumni Council to an alumnus who has demonstrated marked achievement and contributions to the field of medicine in the first twenty years of his or her career.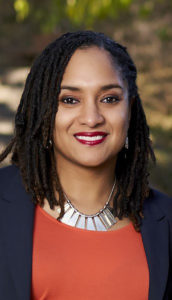 Dr. Strong graduated from UNMC in 2004 and stayed in Omaha to complete her residency. After finishing her residency, she joined the UNMC faculty as an instructor before being promoted to assistant professor.
As the co-director of Medical Student Education in the department, Dr. Strong serves in many roles in the education of junior medical students including assisting in the teaching of basic interview skills, and she has been running the pre-clinical psychiatry course in psychiatry for the past nine years. Regarding resident education, she serves as a faculty supervisor and psychotherapy supervisor.
Dr. Strong is the Faculty Advisor and Mentor to the student-led group called G.R.A.D.S. (graduates and professional achieving diversity and service), which is an inclusive campus-wide group of students that serves as a co-mentoring group. Other activities on campus include her roles as the S.H.A.R.I.N.G. Clinic Faculty Board Chairman and the Director for the Psychiatry Night. She also cares for patients in the Family Medicine clinic.
Staying active in the community is also her passion, as she is a member of multiple community service organizations, with close ties to mentees at UNO and serves as the Parent-Teacher-Student Organization (PTSO) secretary for this academic year.