Mark Aksamit joined the Department of Psychiatry last fall, and starting on Feb. 14, he will join the faculty at the College of Allied Health Professions as an assistant professor in the Master of Physician Assistant Studies program.
Why did you choose psychiatry?
My passion for psychiatry started when I was in undergrad and majored in psychology. I really found a love for helping the underserved during my undergraduate career. I saw a tremendous need for mental health. When I was seven, I was diagnosed with Type-1 diabetes. I thought I would go into endocrinology, but seeing that need for mental healthcare in college, I felt my skills would be better used in treatments like motivational interviewing. I found myself wanting to work in the field where I could combine pharmacology with psychotherapy.
Do you see more physician assistants joining the department?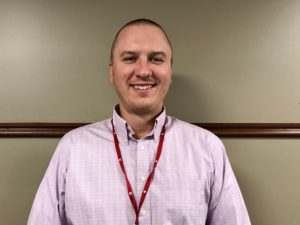 That's a big push we are going to work toward right now. Not only do I want to help bring in more PAs, I also want to work with the psychiatry rotations. It all starts with having a good rotation. That's where I started gaining a lot more passion for the field of psychiatry, and my outstanding rotation during my PA program helped me fall in love with the field of psychiatry. My plan is not only to serve as a liaison between the two programs but also help build a strong rotation for PA students and nurse practitioners that rotate through here.
What do you see as the future of PAs in the Department of Psychiatry?
I believe in three years, we would have a really good multi-disciplinary team set up in the different specialties and sub-specialties. I want to see a physician assistant working with an M.D., working with a nurse practitioner, working with social workers, all across the board to make sure we get the best outcomes for our patients. The more voices we have in every specialty, the better care we will be able to offer.
What are some of your hobbies?
I absolutely love sports. I love spending time with my wife and family. I also love playing cards. We play a lot of pinochle and pitch, which are two games that got passed down from my grandparents.