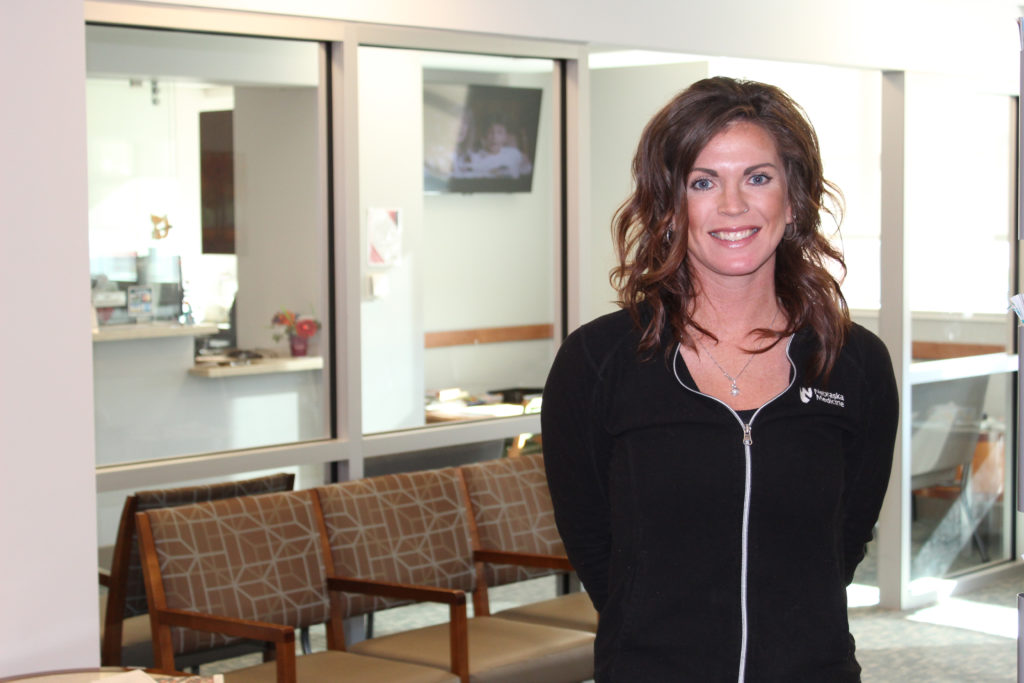 Phoebe Gearhart started as a registered nurse at Nebraska Medicine in December 2015. She was promoted to Department of Psychiatry Clinic Nurse Lead in August. Phoebe is extremely active within the department. She sits on five different committees and is a liaison for the pharmacy. This fall, she was named a 40 Under 40 Nursing Leader.
What do you enjoy about working with the Department of Psychiatry?
I enjoy so many aspects about my position here with the department. I appreciate the ability to be autonomous, as well as to work with a team for the patients. I am privileged to be surrounded by such knowledgeable providers and staff who are superb, not only in their ability but also in their willingness, to answer any questions I may have. My knowledge has expanded tremendously in certain diagnoses and ages that I hadn't had a lot of experience with previously. I'm so fortunate to have the opportunity to work with a wide variety of patient populations through age and diagnosis.
Could you discuss your new role as nurse lead?
Currently, I am expanding all of my current roles and responsibilities and have been welcomed as part of the leadership team. I feel that this role will help the nurses and MAs to become more vocal and engaged in department and team decisions. I will be providing clinical supervision of nurses and medical assistants. As a nurse lead, I will be continuously assessing clinic nursing work flow and making improvements as needed, as well as monitoring quality assurance and making changes as needed. This new position will allow me to serve as liaison between nurses and Department of Psychiatry Leadership, other Nebraska Medicine entities and outside entities. I will continue to serve on committees both within the Department of Psychiatry and Nebraska Medicine.
Why did you go into the area of Psychiatry?
Honestly, I am quite sure the area chose me. I have always been fascinated with how our minds work and the correlations between disease processes, significant life events, and people's ability to manage their lives in the midst of mental health diagnosis. In school, it was obvious to me that psychiatry was what I should choose as a career path when, during those lectures, exams, and rotations, the content really excited me and made me ask questions that didn't really interest me as strongly in the other fields. I also found how strong the stigma is of mental health problems, and I wanted to help in decreasing the negative beliefs surrounding these diagnoses.
How did you find out you're a 2018 40 under 40 nursing leader honoree and what does it mean to you?
I was notified by email from the Nebraska Action Coalition that I had been selected in mid-September. I am so extremely thankful and humbled that the department recognizes my strengths and believes that I will be a great future leader in my career. I am honored that I was nominated by individuals that I believe are great leaders and am excited to partake in the opportunities this nomination will provide for me in the next year. Thank you to my department for allowing me to foster and build my strengths over the last three years to be able to attain this tremendous recognition!
What are some of your hobbies?
 I LOVE to read… A LOT, so going to the library is a must. I also love running and enjoy traveling to run races throughout the Midwest. I am a die-hard Chiefs fan and Iowa Hawkeyes fan (which is tricky in Husker nation), and enjoy going to football games with friends and family.  I also have an almost 5 year old, so apparently I also have a hobby in Disney movie watching, and arts and crafts- with many impressive Pinterest fails under my belt!