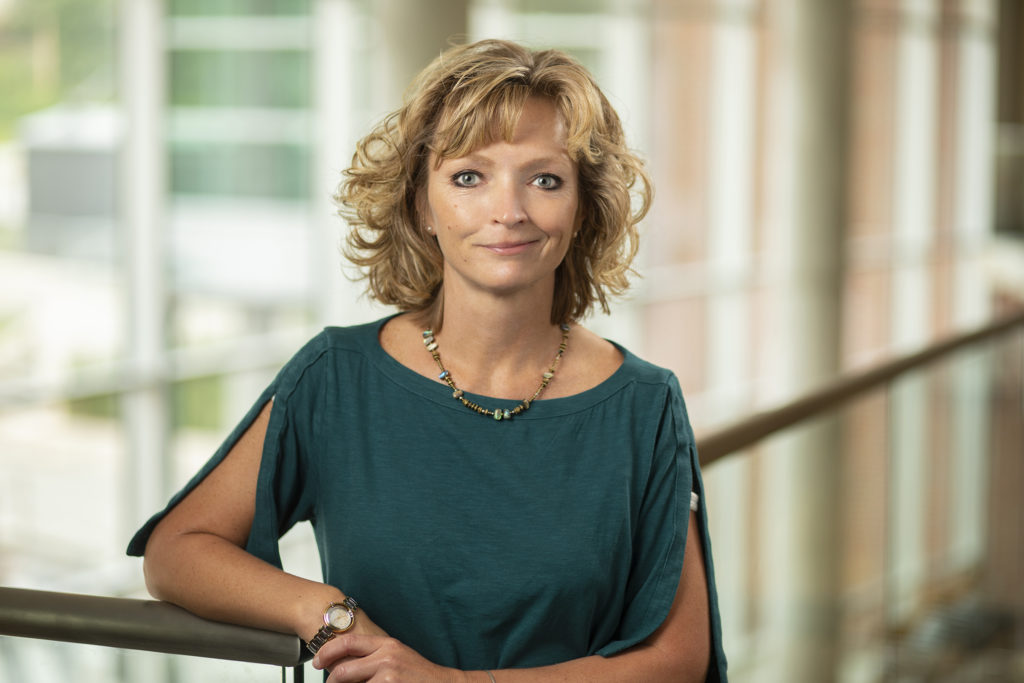 For the past two decades, Brigette Vaughan has played many roles when it comes to UNMC Research. Now, she works as a lead research coordinator.  Brigette helps Dr. Soonjo Hwang on his research with children and adolescents.
What are a couple of your main duties?
I have been at UNMC 20 years. Initially my primary role was as a research nurse coordinator, which meant I managed the clinical conduct of our research protocols (patient care in the context of clinical trials). Gradually my duties expanded to regulatory documentation, training of our residents and research assistants, and serving on the IRB. I have served on study coordinator advisory boards, provide some of the training for study coordinators at UNMC/NE Medicine, and have been a monitor for a nationally funded aneurysm study for which UNMC was the coordinating center. I am currently a Vice-Chair of IRB-02. My main duties currently are working with Dr. Hwang to manage and conduct all of the research activities in the department, with special emphasis on regulatory documentation, monitoring and study oversight.
Why did you join the Department of Psychiatry?
I was actually recruited by Dr. Chris Kratochvil who I had worked with at St. Joseph Center for Mental Health's Child and Adolescent Residential Treatment Center for a couple of years. Dr. Kratochvil was our program medical director, and I was his charge nurse. We developed a relationship that has lasted over 2 decades. He was leaving our program (this was when the department was "splitting" between UNMC and Creighton, and asked if I was interested in continuing to work with kids and learn to coordinate research studies. He knew I enjoyed "hands on" nursing, so I was able to do a lot of procedures (phlebotomy and lab procedures, ecg's). We became the leading site for a series of pivotal studies for ADHD which saw the development and marketing of Strattera (atomoxetine), and also the NIMH funded TADS Study (Treatment for Adolescents with Depression Study). Dr. Kratochvil later submitted and received a K-award.
What are some projects you are currently working on?
I am currently coordinator for Dr. Hwang's studies which use neuroimaging modalities, neuropsychological tasks and (in some cases) pharmacotherapy, to evaluate children and adolescents with disruptive mood and behavior disorders.
What do you enjoy most about your job?
I enjoy working with children and families most of all, but I also enjoy the research process. I have a wicked case of OCD, which Dr. Kratochvil made me promise never to treat as it made me a very good researcher. Serving on the IRB allows me to stay in touch with research across departments in the University and to learn about new and exciting projects. My Columbus clinic is a passion as the children and families there are very special to me.
What do you like to do in your spare time?
What spare time? Ha! I have been a BODYSTEP and BODYPUMP instructor for the last 12 years, so I teach about 7 hours of group fitness each week. I am a life-long Denver Broncos fan (born and raised in Walsenburg, Colorado) and a serious fantasy football manager. My husband David and I have been married for nearly 22 years. We have 3 cats (Phurba, Floyd and Rikka) who keep us busy. We also love travelling to the Caribbean twice a year for sun, fun and frosty beverages.
jSs mXxMRO wtJ OF sxZnbmGJv