(To the tune of Piano Man)
It's 9 o'clock on a Friday morn. The regular crew shuffles in.
They've all matched into residencies, but just before they begin:
Chicken…record scratch: BOOT CAMP.
A three and a half-week, elective course for M4s to hone their surgical skills just before graduation.
Did I mention it was optional? And that all 20 UNMC students who matched into surgical specialties opted to do it?
They could be sleeping in, going out, traveling abroad, goofing off, wandering around, but they're not.
They're in the basement of the cadaver lab, tying knots on the incisions of donor bodies. Knot after knot after knot so that when called upon to suture in the operating room, they don't freeze. Start to shake. Or worst-case scenario: get passed over from someone who does know how.
Surgical boot camp, now in its third year, was designed by Wendy Grant, M.D., from the Department of Surgery. She organized it to give UNMC students a leg up (or would it be a hand?) when they begin their careers as doctors later this year.
"Knot tying is the most basic, fundamental surgical skill," Dr. Grant said. "If everyone who comes through here can be called on to tie a knot on their first day, whether it's right-handed or left-handed, they're ahead of the curve."
You won't catch Dr. Grant barking at students to "drop and give her 20" knots, but instead sketching a pancreas on the white board and peeking over the scrub-donned shoulders of her students with pride.
Thanks to those who donate their bodies to science, this course gives students the most accurate representation of what tissue will feel like in the operating room. Ortho students focus on the bones and joints. Obstetricians and gynecologists zero in on the uterus. ENTs and neurosurgeons concentrate on the head and neck.
"It's the ultimate simulation," said Ben Grams, who matched into general surgery at UNMC. "Having the cadavers makes it so much easier to learn as opposed to looking in a book."
Jeremy Hosein, who matched into neurosurgery in Colorado, is practically boy scout status after tying so many knots.
"I'm 1,000 percent better," he said. "We've each now tied a couple thousand knots."
It's not all knots. The mixture of advice and teaching comes from faculty and residents in many areas of surgical specialties at UNMC. There's also the Laparoscopic Skills Olympics and of course, Jeopardy, held in the Medical Services Building.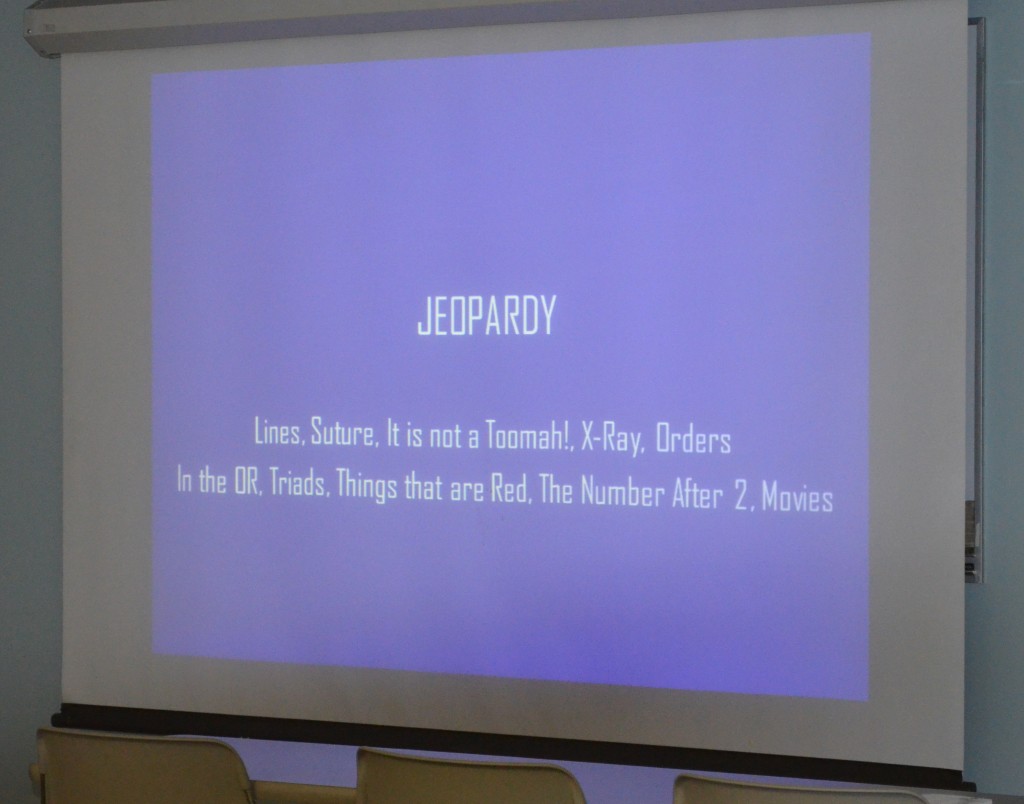 With categories like "Things that are Red?" (Solo cup not being an acceptable answer) "The Number After 2," "It's Not a Toomah," "Orders in the OR" and "X-ray," it's hard for the students not to have fun. After four years of non-stop studying, they relish the relaxed environment of "boot camp."
"It's an opportunity to reconnect with everybody," said Jennifer Dwyer, a soon-to-be urological surgery resident at UNMC.
Dwyer brought the bagels and coffee for her team on the day of Final Jeopardy. After correctly writing an order to "administer a fluid challenge to a 19kg child who is hypotensive," she and her teammates were stumped by what foreign body was pictured on an X-ray.
Fishing bobbers, guessed one student? Nope. Another student shouted an answer that can't be printed in this blog. Nope. The answer was magnets. Giggling ensued.
Their final exam was a double elimination bracket of tying 10 knots with fine suture. For many, having to do so will never be a part of their everyday lives, but it was a skill they thought impossible just three and a half weeks ago.
They opted to be here because they know it'll make them better.
That, and it's fun.