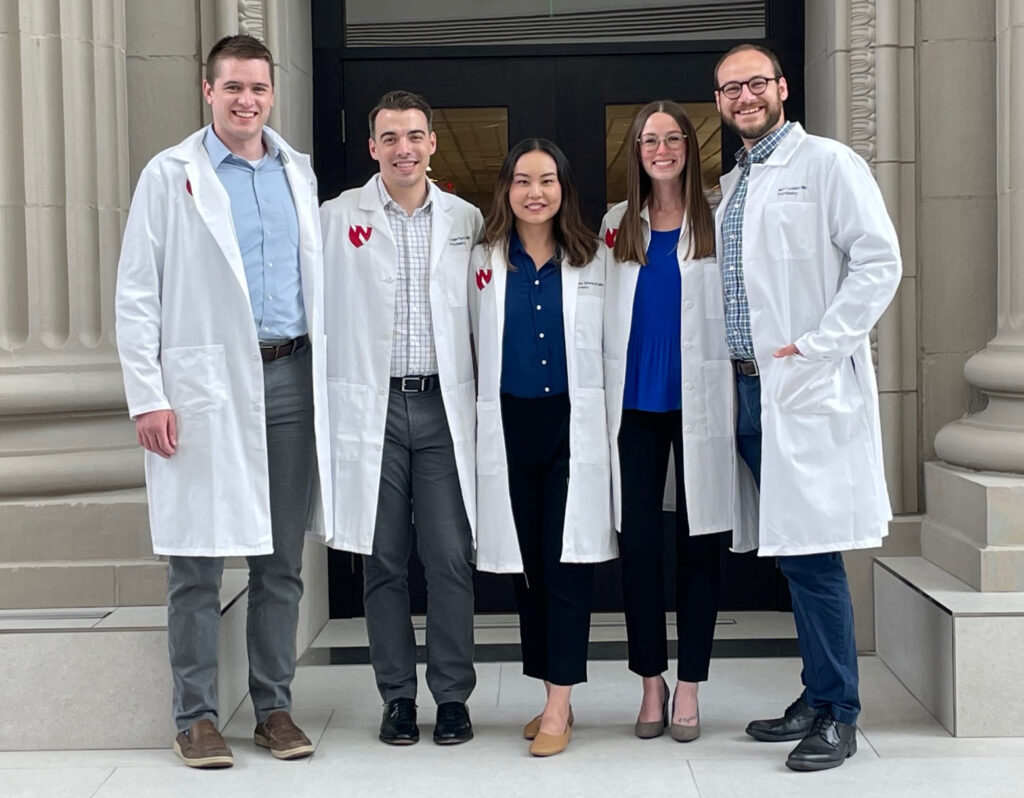 On February 11, the Accreditation Council for Graduate Medical Education (ACGME) announced that the three-year-old UNMC Department of Psychiatry Residency Program had reached continued accreditation, an important milestone.
In 2019, the Department of Psychiatry received provisional accreditation, and, under that status, they matched the initial four interns. For the next match class, the program expanded to five residents and welcomed one second-year transfer. Now, as Match Day 2022 (March 18) nears, they will bring in five more interns, its first incoming class as a continued accredited program. The continued or "full" accreditation makes residents in the program eligible to take their specialty boards. Also, it signals to applicants that the program has the appropriate infrastructure and procedures in place for training.
For the department, it allows expanding the program to beyond its current configuration. Also, the department can look into adding fellowships, which will be attached to the psychiatry residency.
Before receiving provisional accreditation in 2019, the Department of Psychiatry hadn't had its own residency program since 1999. One of the key reasons the department wanted to bring back the psychiatry residency program was to increase the number of psychiatry trainees in Nebraska, which typically leads to more psychiatrists working in state.
"Our state has a mental health workforce shortage," said Daniel Gih, MD, Director of Education for Psychiatry. "The optimal scenario to fix the shortage is to build a training program here, and more and more people decide to stay."
Before the UNMC Psychiatry Residency Program returned, only eight in-state intern slots were available in the Creighton/UNMC joint program. Now, even with Creighton dropping to six, there are at least 11 positions each Match cycle in Nebraska.
"Over the years, we have lost a lot of great psychiatry students to excellent out-of-state programs because there was limited space, and now we can keep more of those residents in state," Dr. Gih said.
With the accreditation hurdle cleared, the residency leadership looks forward to Match Day on March 18. If all goes well, the training program will grow to fifteen residents. Dr. Gih said the program keeps looking for ways to increase visibility and attract high quality applicants. During the first three years of the program, more than 500 medical students have applied each year. With a considerable number of applicants and the success of the first two classes, the program directors are confident that Match Day 2022 will be a success.
"We now have the past two years for reference," said Ellie Corbaley, Psychiatry Residency Program Coordinator. "We didn't have anything to go on our first year, so we just crossed our fingers that we would fill the four slots. Once we saw how well we did, we knew what kind of residents we could get. It's only gotten easier from there."
Dr. Gih said the program started getting more applicants who are part of Alpha Omega Alpha and other national honor societies. "We are seeing applicants who have impressive academic credentials."
"I wouldn't say we're not nervous this year because we are nervous every year, but it's not the blind panic of year one," said Jeana Benton, MD, Associate Program Director of the Residency Program.