Rocky Esteraich, MD, joins the UNMC Department of Psychiatry as an instructor and adult psychiatrist.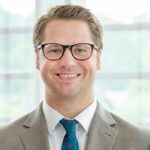 Dr. Esteraich completed his residency with UNMC/Creighton on June 30 and joined UNMC/Nebraska Medicine on July 30. His medical interests include anxiety disorders, sleep disorders, emerging treatments in psychiatry as well as the history and philosophy of psychology/psychiatry.
Dr. Esteraich said as a college student he didn't consider psychiatry until meeting a psychiatry resident.
"We had very similar interests – philosophy/theology, psychology, literature – and he convinced me that these would translate well to psychiatry," Dr. Esteraich said. "When I eventually applied for medical school, I was already about 90 percent certain I would pursue psychiatry. After the M1 anatomy course the certainty was at 99.8 percent."

As an adult psychiatrist, Dr. Esteraich says he would like to not only help alleviate a patient's current suffering but give them tools for lasting change. Along with working in adult psychiatry, Dr. Esteraich also works in the Psychiatric Emergency Services unit.
The McCook, Nebraska native moved to Omaha eight years ago to begin medical school at UNMC. The people who he has met during his eight years of training made staying in Omaha an easy decision.
"I have good friends here and the pace of life fits me," he said. "I have gotten to know many of the UNMC psychiatry faculty over the years and have been impressed with the growth and opportunities available."
Before going to medical school, Dr. Esteraich taught English as a second language and studied philosophy in graduate school.