Debbie Randolph is a medical receptionist who works on the third floor (child and adolescent) at Poynter Hall. This month, she was spotlighted for helping nurses and providers with CMM (covermymeds) forms. Clinic Manager Maggie Milner said Debbie accepted a task outside her job duties, and she volunteered to help out while we are short staffed. This is not a onetime thing. Debbie is always willing to step up and assist her team.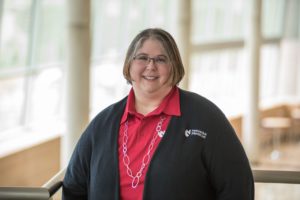 Why did you apply to work in the Department of Psychiatry?
My previous employer closed the business. I always found psychiatry interesting and liked the department when I interviewed. I had interviewed for a couple of other departments but Psychiatry always felt like a good fit.
What are the favorite parts of your job?
My favorite parts have to be the patient interactions, and getting to see all the kids come in. Also, I love my team of co-workers. Everyone brings something different to the table; all combined we are great!
What do you like about working in psychiatry?
I didn't have a lot of psychiatry knowledge coming into the department, so having a better understanding of all the varied diagnosis and treatment
options has been very rewarding.
What are some of your hobbies?
Anyone who knows me or visits the front desk knows I'm a Lancer Hockey fan. My family has been season ticketholders for 15 seasons. I'm also president of the Lancer Booster Club, an organization that does lots of community service projects on behalf of the team. I also love to cook and bake, go to movies, attend concerts and spend time with my 3-year-old great nephew.