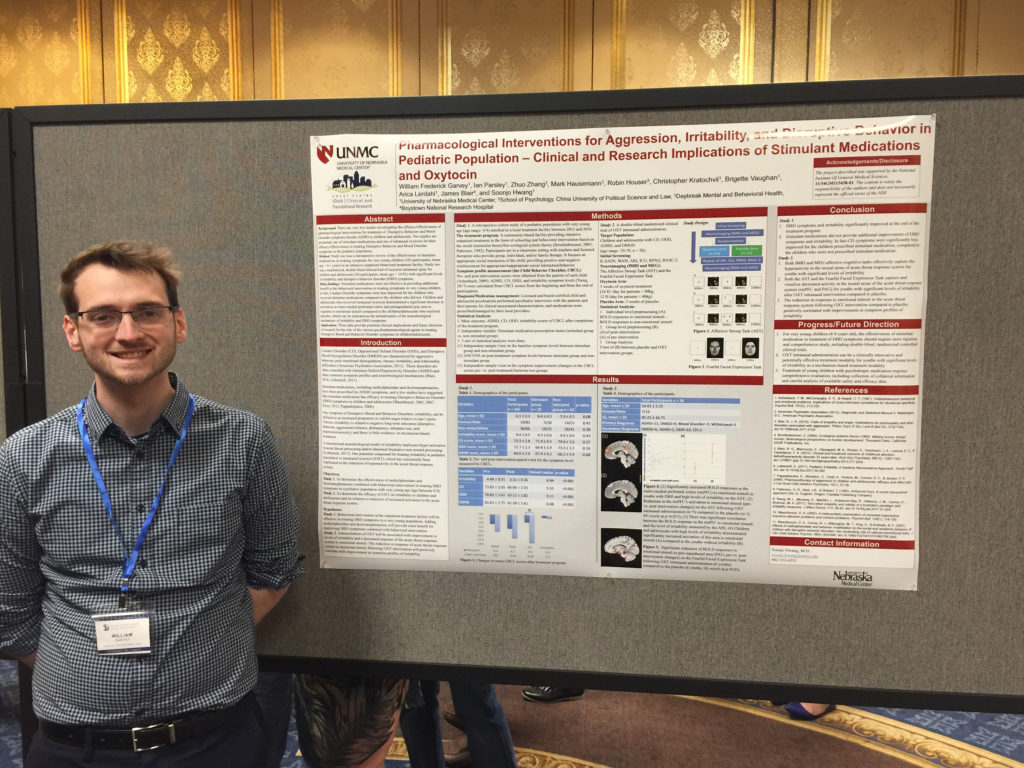 Research Assistant, Dept. of Psychiatry
Fred Garvey graduated from Creighton Prep and studied psychology at Nebraska Wesleyan University. In May, he attended the Society for the Scientific Study of Psychopathy Conference at Westgate Las Vegas Resort and Hotel and presented a poster titled, "Pharmacological Interventions for Aggression, Irritability, and Disruptive Behavior in Pediatric Populations – Clinical and Research Implications of Stimulant Medications and Oxytocin."
What is your role at UNMC?
My daily tasks are scheduling participants for research studies as well as meeting with participants to explain research and procedures. Most of the time, parents are excited about participating in the study. They let the child know that the research will help future children, and then the child will also consent. They will say to their child, if you participate, you will help future children who have the same problems as you. Then after meeting with participants, I will enter the data from the research.
Why did you choose to work in psychiatry?
I've always been interested in mental health. I love getting to see people receive help for their mental health problems. To view it firsthand is amazing. I am involved in research that furthers our knowledge of mental health issues and that finds ways to treat them.
Talk about your experience presenting a poster at the Society for the Scientific Study of Psychopathy Conference
It was a pretty good experience. People would walk by and sometimes they would glance and smile and sometimes they would stop and read a little bit. Other times, I would interact with them and listen to their comments on the study. It really re-engaged my excitement in our research.
What are some of your hobbies?
I enjoy playing the drums and listening to a wide range of music. I'm also a big fan of Game of Thrones and Harry Potter, and I have been watching Bob's Burgers regularly for the past month or two.