Aidan Curry was a "wild ride from the start," recalled his mom, Jennifer Brock, a speech-language pathologist at UNMC's Munroe-Meyer Institute, over a cup of coffee on a cold January day.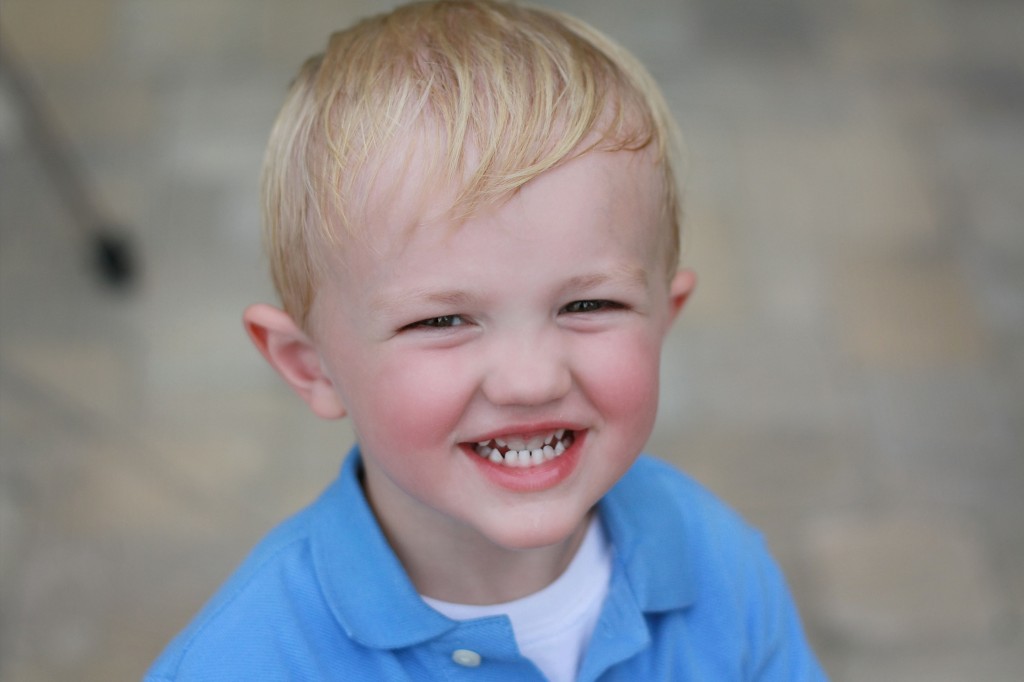 He liked bugs and dinosaurs and animals in general. Stuff 2-year-old boys are wired to love. But his mom isn't sure what he'd be into now. Trains? Spiderman? Batman? Sadly, she'll never know. The blue-eyed blond toddler, known to his family as "Tots," was killed in an auto accident just before Christmas in 2011.
The Curry family had been on their way home from having family photos taken in Lincoln.  A semi-tractor trailer slammed into the back of their car, which held a sleeping Aidan and his little sister, Ansley, in the backseat.
"The car seat wasn't enough to save Aidan, but the car seat is the only thing that saved Ansley," Brock said. "Ansley walked away without a scratch."
Dad Jeff was trapped in the driver's seat. Brock was shaken up. The ambulance arrived and medics strapped Ansley to a backboard before they whisked her away to the hospital. She was conscious and alert the whole time. Seventeen-months-old and all alone.
Brock struggles to imagine what the experience must have been like for her daughter. On the ride to the hospital, as doctors she'd never met examined her, while she underwent multiple tests, there was no one and nothing familiar to her until someone handed the little girl a homemade quilt. A comfort item. Something recognizable in the midst of the unknown.
And that is where the idea for Aidan's Animals comes from. "Born out of tragedy but maintained by love," the non-profit organization was started by the Curry family to honor their son's short, but meaningful life and remember the kindness that was shown to their daughter in her time of need.
"When you don't have mom or dad or your sibling, this way you have a teddy bear or a stuffed dog, something to hug when you go to radiology, for blood work…a constant cuddle, something familiar."
Aidan's Animals has provided cuddles to more than 800 children in the Omaha area and beyond. Whether it's Children's Hospital & Medical Center or Bellevue Medical Center or further away in Connecticut following the Sandy Hook Elementary tragedy, the Brock family continues to give back tenfold what they received those fateful days following Dec. 3, 2011.
Now they want to do it here.
Starting Friday, Aidan's Animals will conduct a toy/stuffed animal/blanket drive called "Kuddles for Kids" through Feb. 28. The items will be donated to the pediatric units at The Nebraska Medical Center.
UNMC and The Nebraska Medical Center employees are encouraged to contribute to any of the drop sites on campus (listed below). If individuals would like to contribute but are unable to get to a drop site on campus, they can always donate to the cause through Aidan's Animals wishlist.
"At some point, everyone is faced with a tragedy," Brock said. "We hope to minimize the effects by offering the highest level of support and creating more positives out of ordinarily horrible and devastating ordeals."
Tomorrow, Feb. 20, will mark what would have been Aidan's fourth birthday. Last year, his parents brought treats for his day care friends – cupcakes with cars on them — and opened the presents they'd purchased for him prior to his death, a bug light projector and a marine biologist play set. Brock isn't sure how they'll mark the occasion this year, but one thing is certain, it won't be forgotten.
"I had an initial fear…and I still do…. that he'll be forgotten," Brock said. "He had no chance to create a legacy for himself, but he was an incredible person. We just want people to know how special he was."
Through Aidan's Animals, they will.
Here's a list of NEW items employees can donate for the pediatric units at The Nebraska Medical Center:
-Toys
-Books
-Art Supplies
-Tables & Chairs
-Blankets
-Stuffed Animals
-Puzzles
-DVDs
In addition to the following med center drop off locations, individuals can bring items to the Walmart, 1606 S. 72nd St. in Omaha, as well as at Aidan's Animals headquarters, 2809 Angie Dr., in Bellevue.
DROP OFF LOCATIONS
Clarkson Hospital lobby
Munroe-Meyer Institute, Psychology Department on the 3rd floor
Munroe-Meyer Institute, The Center for Autism Spectrum Disorders on the first floor
UNMC College of Public Health
Durham Outpatient Center lobby
Kiewit Tower Entryway
ITS building entrance
Sorrell Center Alumni Commons
Center for Healthy Living
For more information, e-mail aidansmama3@gmail.com or visit Aidan's Animals Facebook page.