Chairs for Book Club:  Phyllis Chapin (402-431-0882) and Cynthia Swanson (402-397-0541)
We meet at noon on the second Wednesday of the month for lunch and discussion. Join us to read along even if you are not able to come for the discussion (or come for the discussion even if you have not read the book).
Stay tuned for this year's list.
2014-15
BOOKS
The Goldfinch by Donna Tart
Listening is an Act of Love by Dave Isay
Still Life, Inspector Gamache by Louise Penny
Mary's Story by Barb Swant, Ruth Anderson
Clara and Mr. Tiffany by Susan Vreeland
The Rape of Europa by Lynne Nicholas
Brain on Fire by Susannah Cahalan
Farthest House by Margaret Lukas
Where'd You Go, Bernadette by Maria Semple
The Round House by Louise Erdrich
April Book Club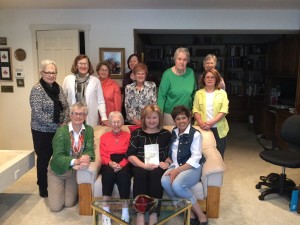 Pictured from left to right in the back (top) row are Mary Yonkers, Janelle Davis, Kay Bennett, Cynthia Swanson, Hostess, Lou Scott, Dixie Lemon, Joanie Zetterman, and Pam Hamel.
Pictured seated from left to right are Claudianna Todd, Virginia Grissom, Guest author, Margaret Lukas, and Marge Woodman
Author, Margaret Lukas (Margie), shared with us her experiences as a writer, mother, teacher, and wife; in other words she shared her life experiences and how they all fell into place as she wrote The Farthest House.  Because of Margie, our discussion was open, lively, and filled with questions, laughter and shared dismay.  When asked about how we could help her, she replied that writing reviews and sharing our read with others would be a wonderful help.  So anyone reading this, feel free to jump into reading The Farthest House by Margaret Lukas; intrigue, Nebraska, love, deception, fine characterizations, ghosts and psychic powers.