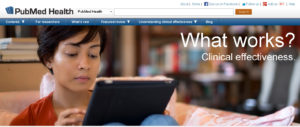 PubMed Health will help you answer the question of "What works?" when it comes to the prevention and treatment of diseases and health conditions. This website specializes in reviews of clinical effectiveness research, and provides easy-to-read summaries for the general public as well as full technical reports for clinicians. Categories of information include:
Health A-Z/Drugs A-Z: a list of different health and prescription drug topics. Each page includes a brief description of the topic, a glossary of relevant terms, and summaries and evidence reviews for current clinical effectiveness research.
Understanding Clinical Effectiveness: provides resources for  understanding clinical effectiveness and systematic reviews, where to find systematic reviews, and free ebooks for understanding how to interpret research results.
PubMed Health Blog: receive updates on new content on PubMed Health, health news, and information about new resources relate to clinical effectiveness research.
Behind the Headlines: provides evidence-based analysis of health stories in the news.
PubMed Health is maintained by the National Center for Biotechnology Information (NCBI) at the National Library of Medicine.
Want to learn more about PubMed health? Attend the webinar: "Understanding Systematic Reviews and More at PubMed Health." Wednesday, July 26, 2:00 pm CT. Register for the webinar here.