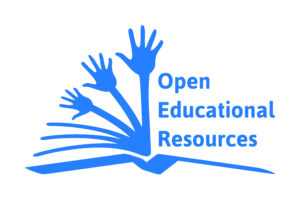 Are you a faculty member looking for creative ways to customize your course materials? Or maybe you're a student looking for additional resources to help you understand a new concept. Then open educational resources (OERs) may be for you!
The United Nations defines OERs as "teaching, learning and research materials in any medium … that reside in the public domain or have been released under an open license that permits no-cost access, use, adaptation and redistribution by others with no or limited restrictions." These materials can include books, documents, multimedia, or online modules and courses that are provided for free to reuse as part of learning activities. Many OERs are intended to be available to the public, however, some may be limited to access within a specific institution.  The benefits of using OERs include lower costs for learners and the open sharing of knowledge. It also provides the opportunity for faculty to create or adapt materials to the specific needs of a course.
You may not be ready to create a brand new OER yet, however, there are many resources already available for you to use. This list will highlight just a few OER repositories to help you get started.
The UNMC E-Learning Program provides resources to support faculty and students in creating innovative e-modules. Many of the modules are also available for reuse in the E-Gallery. The gallery includes twelve categories of information. Faculty can fill out a brief form to request permission to link to a module in their course.
MERLOT is online repository that includes over 4,000 open educational resources for all areas of health sciences. It includes simulations, animations, reference materials, games and more. Created and maintained by the California State University System.
Open Michigan includes open educational resources for multiple areas of health sciences including dentistry, medicine, nursing, public health, and pharmacy. The University of Michigan provides access to course materials, videos, lectures, and more.
The Massachusetts Institute of Technology provides a website of undergraduate and graduate open courses. The site is searchable by type of collection or material, topic, department, and instructional approach. Resources include images, simulations, lecture notes, textbooks, and more.
The National Library of Medicine provides free access to books, reports, and other documents in life science and healthcare.
Looking for more resources? Send an email to askus@unmc.edu or contact your Liaison Librarian.