By John Schleicher
The medical technology education program at the University of Nebraska College of Medicine was started in 1932.  It was organized in cooperation with the clinical laboratory of the University of Nebraska Hospital (now Nebraska Medicine), which had been established in 1923.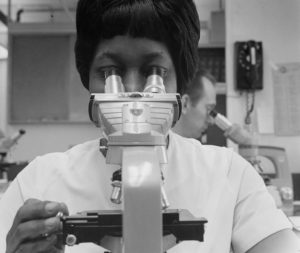 Medical technology (now Medical Laboratory Science) was the first program in the area becoming known as the allied health professions to be started at UNMC.  Several other programs quickly followed.  With the growth of these various programs, a School of Allied Health Professions was formed within the College of Medicine in 1972.  In 1973, the physician assistant program was started, and other new programs would follow in the last decades of the 20th century.
In 2007, Bennett Hall (built in 1918) underwent an $8.9 million renovation (46,000 square feet of space), and in August 2008, all ten of the educational programs of School of Allied Health were finally housed together, for first time ever in one location, having previously been located across the UNMC campus in various buildings.
On July 1, 2015, the School of Allied Health Professions ceased being administered by the College of Medicine, and became the College of Allied Health Professions, the sixth college established at UNMC.
kLL tDM cLfjAjj rC