By John Schleicher
In 1887, John Latenser, Sr. (1858-1936), set up an architectural practice in Omaha.  His practice spanned more than 50 years, with commissions for many of the city's larger civic and commercial building projects, including the Douglas County Courthouse, Scottish Rite Masonic Temple, Brandeis Department Store, and Central, North and South High Schools.  For several decades Latenser was the primary architect for the University of Nebraska College of Medicine (later UNMC).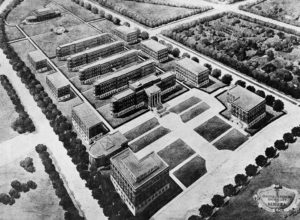 Latenser may have envisioned this concept plan (see image) for the medical campus as early as 1915, with this rendering of the plan dated 1921.
Charles Poynter, M.D. (College of Medicine Dean 1930-46) wrote, "The 1911 Legislature provided $100,000 for a college building . . . finished in the fall of 1913, the school was set up in the new building.  In the original campus plan, provision was made for a 500 bed teaching hospital consisting of five units.  In 1915, $l50,000 was appropriated for the first unit.  John Latenser & Sons were engaged to draw the plans and have since been in charge of all campus building."
In 1919, Irving Cutter, M.D. (College of Medicine Dean 1915-25) wrote, "With the construction of the South Lab Building (Bennett Hall) and the Central Power Plant, the total cost of buildings on the medical campus will exceed a half million dollars.  The South Lab Building . . . in general architecture, is an exact duplicate of the North Lab Building (Poynter Hall)."
Latenser's campus plan was never completed as envisioned.  Conkling Hall (first permanent College of Nursing building) was completed in 1923 and a second unit of the hospital opened in 1927.  Appropriations for and construction of other buildings in the plan never happened because of the poor farm economy of the 1920s and the great depression of the 1930s.