By John Schleicher
The U. S. entered World War I on April 6, 1917, and fought throughout the remainder of the conflict, until the armistice was signed on November 11, 1918. Eighty members of the College of Medicine faculty and student body were in military service by March 1918.
University of Nebraska Base Hospital No. 49 was organized in September 1917 and was mobilized in March 1918. After the war, the unit was taken out of service in January 1919, and the members of the unit sailed for the U.S. in April 1919. The unit was then transferred by train in May 1919 to Camp Dodge, Iowa, where it was demobilized on May 7, 1919.
Many College of Medicine alumni also joined Base Hospital No. 49. Among them was Dr. J. C. Waddell (fifth from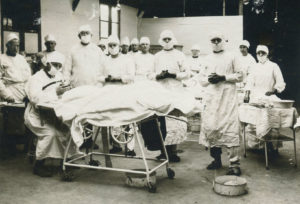 right in photo), a 1910 graduate who had been practicing in Pawnee City, Nebraska before the war. Born in 1876 in Illinois, Waddell came with his family to Nebraska in 1882, settling on a farm southwest of Pawnee City. He attended rural school until he was 13 years old, and then enrolled in the Pawnee City Academy (high school). He later graduated from Tarkio College in Missouri, and then attended the University of Nebraska College of Medicine.
After the war, in 1920, Dr. Waddell joined in practice with another physician in Beatrice, Nebraska. He continued to practice medicine in Beatrice for the next 50 years.