If you use a citation manager like RefWorks, EndNote or Zotero; saving a Google Scholar search result in your citation manager's database is as simple as clicking a link. Getting the needed links to appear in your search results takes a little bit of work, however.
To get an "import" link to appear in each Google Scholar search result:
Go to Google Scholar  http://scholar.google.com
Click on the "menu" icon (three, stacked, horizontal lines)

Find and click on the "Settings"/"Cogwheel" icon. The cogwheel may be at the bottom of the list of options or above the other options.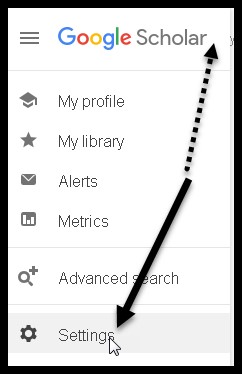 Use the "Bibliography manager" drop-down to make the appropriate selection.
If you are using Zotero or Mendeley, select the "RefMan" option which will produce a RIS-format file.  Zotero preferences can be set to automatically import any downloaded RIS files.

Click the "Save" button.
Conduct a Google Scholar search.
An "Import into Refworks," "Import into RefMan," or "Import into EndNote" link will be present under each Google Scholar search result.  You can either click this link, or, if you want a citation manager record that is unlikely to need editing, follow the instructions below to import a record from PubMed.

If you want to import a record from PubMed that is unlikely to require editing:
Click the "All ___ versions" link.
Google Scholar aggregates all sources for a search result in one "hit" or search result.   If you look at the screenshot above, you'll see that 16 different websites provided   this search result (see dotted arrow.  A PubMed record for this article is probably one of the 16 sources.
When you reach the page showing the different versions of the search result, look for a "version" that was retrieved from "nlm.nih.gov" (see red underline in screenshot below). This is the PubMed version.  Click on the "Import into ______" link under this version of the search result.