By Cindy Schmidt
Standard admission orders, clinical care checklists,  residency manuals, and other useful materials are often located by a Google search.  Saving all of the useful results with their corresponding hyperlinks can be a time-consuming activity.
A simple add-on for the Chrome browser, linkKlipper can save you time!
Give it a try:
Use the Chrome browser to go to linkKlipper
Install the "linkKlipper" add-on. This doesn't require administrative rights!
Go to google.com
Perform your Google search. An example of a search that produces many useful results is asthma admission orders
Click the "linkKlipper" icon in Chrome's header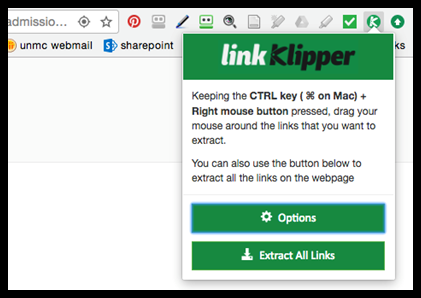 To get the cleanest results, follow the instructions in the box that appears below the "linkKlipper" icon, i.e.

hold down the CTRL key (Windows) or the  command key (looped square, Mac)
left-click and drag your mouse to draw a box around the results you wish to harvest  (you may have to click and drag more than once to start the box-drawing process)
release the mouse button
A .csv file will appear in your "Downloads" folder.  Double clicking the downloaded file will open the file in Excel.  The first column will contain the links.  The titles will appear in a second column.  Titles that contain commas may be split into more than one column.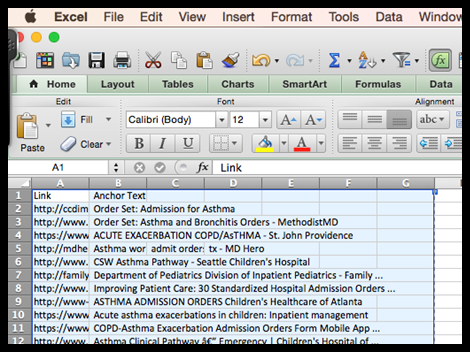 Want to harvest 100 links at a time?

Perform your Google search.
Use the "Settings" menu to select "Search settings"

On the "Search Settings" page:

Find the "Google Instant predictions" area, choose  the "Never show Instant results"  option.
Find the  "Results per page" area, drag the bar to 100.
You can now see 100 hits per page and use the linkKlipper to harvest 100 results at one time.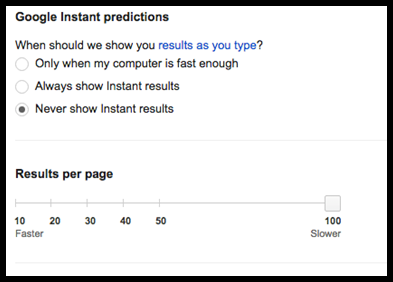 Interested in other Google and Google Scholar search tips?  A recording of the McGoogan Library's recent session on "Getting the Most From Google-Advanced Tips & Tools" is now available.