Electrotherapy is the use of electrical energy as a medical treatment. In medicine, the term electrotherapy can apply to a variety of treatments, including the use of electrical devices such as deep brain stimulators for neurological disease. The term has also been applied specifically to the use of electric current to speed wound healing.
The first medical treatments with electricity took place in London as early as 1767 at Middlesex Hospital, using a special device. The same device was purchased for St. Bartholomew's Hospital ten years later. The record of uses other than therapeutic is not clear; however, Guy's Hospital in London has a published list of cases from the early 1800s.
In 1856 Guillaume Duchenne, a French neurologist, found that alternating current was superior to direct current for electrotherapeutic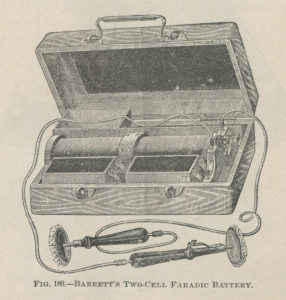 triggering of muscle contractions.  He noted that the "warming affect" of direct currents irritated the skin, since, at voltage strengths needed for muscle contractions, they cause the skin to blister. With direct current, each contraction required the current to be stopped and restarted. Alternating current could produce strong muscle contractions regardless of the condition of the muscle, whereas direct current-induced contractions were strong if the muscle was strong and weak if the muscle was weak.
The device shown here is Barrett's two-cell faradic battery, which is very similar to a late 19th century electrotherapeutic device in the library's special collections. Similar devices were used during the last decades of the 19th century through the first few decades of the 20th century.  The image is from a book in the library's rare book collection, Practical Electricity in Medicine and Surgery, by G. A. Liebig, Jr., Ph.D., and George H. Rohé, M.D., published in 1890.