By Cindy Schmidt
Have you ever scanned a page of PubMed search results or RefWorks records looking for relevant items?  If so, you know how much time it can take to spot the words that indicate relevance or irrelevance.
The Firefox Multiple-Highlighter Add-on can save you time and prevent eye strain.  To use the Multi-Highlighter:
Simply, install the free, Multiple-Highlighter add-on.   This doesn't require administrative rights so you can even install and use the highlighter on cluster computers.
The "Highlighter" icon will appear in the Firefox header.

Click the downward arrow next to the "Highlighter"  icon. A pop-up with term-entry boxes will appear.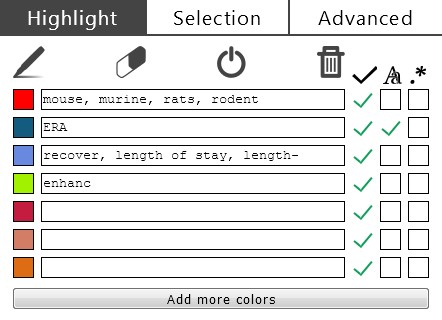 Type in the words you want, highlighted with a specific color, separated by commas.   If you want the matches to be case-sensitive, click on the the "Aa" column box. Finally, click the "Highlighter" icon above the entry boxes or the "Highlighter" icon in the Firefox header. The highlighter will highlight the designated terms on most webpages.  The screenshot below show term highlighting in RefWorks.