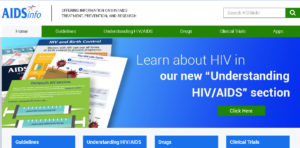 AIDSinfo is your one-stop shop for information from the U.S. federal government on HIV/AIDS treatment, prevention, and research.  The site features federally approved practice guidelines, health education materials, FDA-approved and investigational drugs, and a clinical trial search tool.
A new web design was launched on April 15th. The major enhancements to the site include:
Patient education materials are reorganized: They are now all located in a new "Understanding HIV/AIDS" section of the website.  The resources include fact sheets, infographics, an HIV/AIDS glossary, and webpages highlighting the National HIV/AIDS Awareness Days.
More prominent display of mobile apps: the AIDSinfo HIV/AIDS Guidelines, Drug Database, and Glossary apps are now prominently featured in each section of the website.
Enhanced search functionality: an updated search feature allows users to quickly find relevant resources.
Increased linking between AIDSinfo resources: Resources are now linked to each other across the website. For example, patient fact sheets are now linked directly from the guidelines pages, so health care providers can easily access materials for their patients.
You can visit AIDSinfo at https://aidsinfo.nih.gov/
AIDSinfo is a project of the U.S. Department of Health and Human Services as a collaboration between the following agencies:
National Library of Medicine
NIH Office of AIDS Research
National Institute of Allergy and Infectious Diseases
Health Resources and Services Administration
Centers for Disease Control and Prevention