The McGoogan Library of Medicine would like to announce the opening of a space of reflection on February 1, 2017. The Reflection Room made possible by funding from the Department of Psychiatry, will be available to students, faculty, and staff to carry out quiet meditation or reflection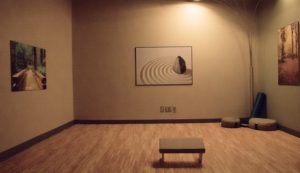 . The room holds displays of art that will rotate periodically, soft lighting, and comfortable cushions and mats for meditation. A massage chair is also available in the room.  Contemplative music selections are available for access via QR code on your mobile device. The Reflection Room is located on the 8th floor of the McGoogan Library of Medicine in room 8016A and is open to all during regular library hours. No reservations are required.
McGoogan Library additionally has a Wellness Corner on the northwest side of the 6th floor. Large-format relaxing images, a coloring station, and wellness-themed books on relaxation techniques, yoga, and managing stress are available. Relaxing song and music recommendations are also available in this area via QR code on your mobile device.