Larissa Krayer
Digital Archivist
Special Collections
Tell us about your job in the library.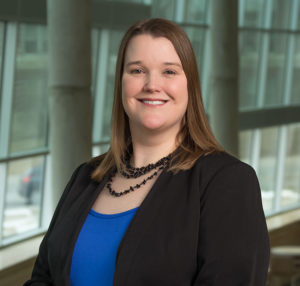 I am the Digital Archivist for the Special Collections.  I collect, manage and care for both digitized and born-digital materials relating to the history of UNMC and the health sciences in Nebraska.  A big part of my job is preserving these files so that they can be accessed today as well as for years to come.  One of the ways I help to make these items accessible is by creating digital interactive exhibits which will be launching early next year.
When would you most likely meet or talk with me?
If you are interested in accessing our digital materials or interested in donating materials to the collections would be the time you'd most likely to talk to me.
What do you like about working in the library?
I love being able to work with history and especially being able to make it accessible and relevant to the public.  I enjoy being able to present artifacts and documents in new and interactive ways through exhibits.  But my favorite part is the challenge in working with digital materials as technology is constantly changing and evolving, so there's always something new to learn and adapt to.
What do you like to do outside of work?
I volunteer and foster for Basset and Beagle Rescue of the Heartland.  I love to travel and enjoy exploring Nebraska and Iowa by visiting the many wonderful wineries and breweries.