By John Schleicher
Cecil L. Wittson, M.D. (1907-1989) was born in Camden, South Carolina.  He received his BS degree from the University of South Carolina in 1927, and his MD degree in 1931.  Wittson interned at Roper Hospital in Charleston, South Carolina, from 1931-1932, then held various posts at Central Islip State Hospital i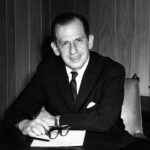 n New York.  He received post graduate training at Columbia University College of Physicians and Surgeons in psychiatry and neurology from 1935-1938.  In 1948, Wittson received certification from the American Board of Psychiatry and Neurology.  During World War II, Wittson rose to the rank of Commander in the Medical Corps of the U.S. Navy Reserve, serving from 1940-1946.
After World War II, he came to Nebraska where he became director of the Nebraska Psychiatric Institute in 1950, a position he held until 1964.  That year, Wittson was named Dean of the University of Nebraska College of Medicine.  He became President of the University of Nebraska Medical Center in 1969, and in 1971 this title was changed to Chancellor.  He retired in 1972 and became Chancellor Emeritus.  After his tenure at UNMC, he served as Director of Medical Programs with Henningson, Durham, & Richardson Consulting Architects and Engineers, in Omaha.  In 1981, he retired to his native South Carolina and in 1985, he moved to Lakeland, Florida, where he died at the age of 82 in 1989.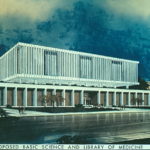 Construction on the Basic Science building began in 1967, and upon his retirement in 1972 the building was named after Wittson, the first Chancellor of UNMC.  A new medical library was added to the top of the building and opened in 1970, now the McGoogan Library of Medicine.
For more information on Dr. Wittson, see the new exhibit located in the 3rd floor passageway between Wittson Hall and University Tower.