By John Schleicher
Olga (Sadilek) Stastny, M.D. (1878-1952) was a leading Omaha physician during the first half of the 20th century.  She was born in Wilber, Nebraska, and graduated from high school there in 1895, and the same year she married dentist Charles Stastny, and they had two children.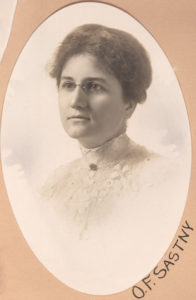 Her husband died in 1907, and Stastny went back to school, eventually earning her M.D. in 1913 from the University of Nebraska College of Medicine.
She did postgraduate study at the College of Medicine, New York; as well as at Mary Thompson Hospital, Chicago.  She also travel led to Prague, Czechoslovakia, and Berlin, Germany, 1913-14, for further postgraduate work.  She was an intern at the New England Hospital for Women and Children in Boston.
She practiced medicine in Omaha from 1913-16, and in 1918 she volunteered to become an anesthetist in the American Women's Hospital in France during World War I.  From 1919-20, she was a faculty member of the School of Social Service, Prague; and from 1919-22, she was director of the International YMCA's Department of Health for Czechoslovakia.  From 1923-24, she was the supervisor of a quarantine station for refugees from Greece and Asia Minor.
She returned to private practice in Omaha and also served as volunteer faculty for the University of Nebraska College of Medicine from 1925-1948, in the area of obstetrics and gynecology.  She was president of the American Women's Medical Association from 1930-31.