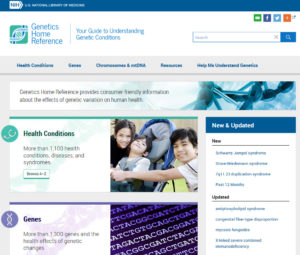 Genetics Home Reference is maintained by the National Library of Medicine (NLM), and provides information about genetic conditions and the associated genes and chromosomes. It covers over 1,100 health conditions, over 1,300 genes, and all the chromosomes and mitochondrial DNA. The site also includes a "Help Me Understand Genetics" book which is downloadable in PDF format, and provides a basic introduction to how genes work, and how genetic mutations impact health. There are additional resources for support and advocacy, genetic testing, research, classroom materials, policy and ethics, news articles, and much more. The site is written for patients and families, and is useful for anyone with an interest in human genetics.
On April 25, NLM launched a redesign of the site. New features include:
Mobile-responsive design to enhance usability on mobile devices
New and updated content
In-text links that improve navigation between related topics
Educational images from the National Institutes of Health, Centers for Disease Control and Prevention, and other sources integrated into health condition summaries
Streamlined navigation of webpages, to make it easier to find information of interest
Improved browser printing
and more!
You can visit Genetics Home Reference at https://ghr.nlm.nih.gov/
ruS Y YPUCTyLfOhOV