By John Schleicher
Irving Cutter, M.D., was born in 1875 in New Hampshire, and as a boy he came to Nebraska with his family.  He graduated from the University of Nebraska-Lincoln in 1898. For six years following graduation he worked as a high school teacher and principal. He graduated from the University of Nebraska College of Medicine in 1910, at age 35. After graduation Cutter practiced medicine in Lincoln for three years, and was also an instructor in physiological chemistry at the University of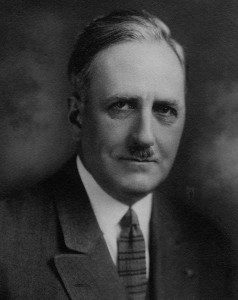 Nebraska. In 1913 Cutter became professor of biochemistry at the University of Nebraska College of Medicine.
Dr. Cutter became Dean of the University of Nebraska College of Medicine in 1915, and served in this capacity until 1925.  He then became Dean of Medicine at Northwestern University Medical School in Chicago. Cutter remained at Northwestern University for 16 years, retiring in 1941. While at Northwestern University, Dr. Cutter also acted as Medical Director of Passavant Hospital in Chicago.
Beginning in 1934, Cutter was medical editor for the Chicago Tribune, writing a daily column on health called "How to Keep Well." The various topics of his columns cover a wide range of medical topics, from diabetes to poison ivy, and worry as a cause of heart disease to hardening of the arteries.
Cutter served in World War I as a Captain in the Medical Corps of the U.S. Army from 1918-1919, and held the rank of Lieutenant Colonel in the Officers' Reserve Corps from 1920-1929. In 1923 Cutter was elected president of the Association of American Medical Colleges. He was president of Phi Rho Sigma from 1927-1934. He died in 1945, at age 69, of prostate cancer.