Euem Osmera
Digital/Tangible Media Cataloger
Collection Development and Metadata Department
Tell us about your job in the library:
I'm the digital tangible media cataloger in the Collection Development and Metadata Department.  Basically I analyze all media the library collects, applies descriptive information, code and input them in the library catalog.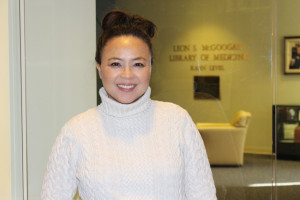 If everything is done correctly, these items are easily discoverable and accessible. Additionally, I also work at the AskUs desk where I get to talk with students, staff and faculty about their information needs – I like this part quite a bit because it gives me a chance to see how people use our resources and then adjust what I do to make their user experience better.
When would you most likely meet or talk with me?
You'll most likely see me on the 8th floor of the library, or the 6th floor at the AskUs desk, or around campus at various meetings.  If you see me in one of these places, please say 'hello', I'd love to meet with you!
What do you like about working in the library?
I like making available and giving information to people – It's very exciting and rewarding to see our patrons receive the information they were seeking.
What do you like to do outside of work?
I love to make delicious meals and desserts for family and friends.  I also volunteer for the Omaha Public Library and the Ronald McDonald House Charities.