By John Schleicher
Some of the artwork on the UNMC campus often goes unnoticed and unappreciated. The centen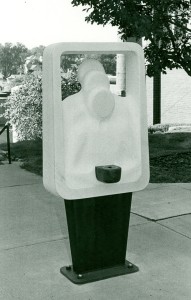 nial sculpture (pictured), located in the passageway between Wittson Hall and the hospital is one of those works of art. The sculpture honors the 100th anniversary of the College of Medicine, and was dedicated in October 1980. Originally the sculpture stood outside, between Bennett Hall (then called South Lab Building) and the Lied Transplant Center (then the site of Conkling Hall, former School of Nursing building). Created by artist Danny Whetstone, the sculpture is the centennial logo, representing the past, present and future generations of the college. When located outside, the sculpture included an eternal flame that demonstrated the college's continuing commitment to health care.
In March 1996, the demolition of Conkling Hall began, to make way for the Lied Transplant Center. The sculpture was removed and later placed indoors in the passageway where it now stands.
To visit the UNMC archives, contact the Special Collections Department to schedule an appointment or inquire at the AskUs desk on the 6th floor of the library.