Cindy Schmidt
Education & Research Services Librarian
Education & Research Services
Tell us about your job in the library.
I am a member of the Education & Research Services department and so spend most of my time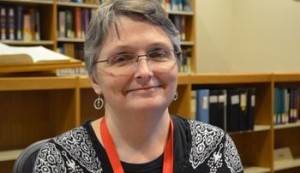 answering questions received at the AskUs desk, responding to literature search requests, and providing training in the use of information resources.  I am also the library's liaison to the College of Pharmacy, and, in that role, I co-teach "Introduction to Drug Information" — a 2-credit-hour, required P1 course.  I also provide additional instructional sessions, as requested, for COP and other UNMC students.  These instructional sessions often include online tutorials created for a specific class or student group. Finally, I am UNMC's RefWorks administrator and so spend quite a bit of time providing RefWorks support and training.
When would you most likely meet or talk with me? 
I spend 4 hours a week staffing the AskUs desk.  During that time I respond to the in-person, chat, e-mail, and phone questions received at the desk.  You might meet or speak with me then. You are also likely to be referred to me If you request  RefWorks training or help, "My NCBI"/SciENcv help, or help with an alternatives search for an IACUC protocol.
What do you like about working in the library?
I love to hunt for information and figuring out the approaches that work best in different literature databases.  I also enjoy teaching.
What do you like to do outside of work?
I enjoy playing with my dogs, visiting with family and friends, and working on home improvement projects.  My dogs have given me opportunities to learn to reupholster furniture and I've found that I enjoy it.   I usually am involved in some volunteer work with children but am between volunteer projects at the moment.