By John Schleicher
The Omaha Medical Society was founded in 1866 by early physicians who wanted self-regulation of doctors in the frontier community. One of the first concerns of the new group was regulating who was considered a qualified physician, to keep out the "quacks" who claimed to be doctors but had very little if any formal training. State licensing of physicians did not start until the 1890s.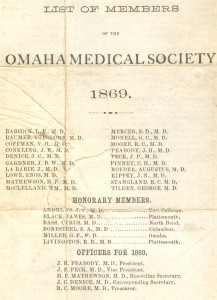 As early as 1871, the group passed a fee bill, which noted: "Whereas, the Omaha Medical Society feeling the importance of a perfect uniformity in the prices for professional services, in order to avoid litigation and other difficulties, deem it important and proper that there should be a mutual understanding upon the subject. Therefore, we, the members of said society do solemnly agree that we will hereafter be governed by the following bill of charges for professional services, as far as it is practicable."
Individual fees are listed for any number of medical conditions, various surgeries, etc. The initial fees on the list include: office prescription and advice (ordinary), $1-$3; ordinary visit within the city limits (house call), $3; and visit to the country (per mile, additional), $1.
The conclusion of the fee bill also discusses the "black list"—not for "quack" physicians, but for patients who do not pay their bills: "Whereas, many persons are in the habit of employing a physician until he presents his bill for payment, then discharging him, and calling another; thus going the rounds of the profession, without ever paying or making an effort to pay their bills; therefore, resolved, that we, the members of this society, adopt a Black List, wherein the name, number and street of every such person shall be kept, the preliminaries of which shall be hereafter regulated, and that we decline to render service, until they pay their previous attending physician or physicians."
By the start of the 20th century, with a growing population and city which was spreading out in geographical area, the organization changed its name to the Omaha-Douglas County Medical Society in 1903. With more suburban communities, especially in Sarpy County, the group changed their name in 1976 to the Greater Omaha Medical Society. Finally, in 1979, the organization became known as the Metro Omaha Medical Society, or MOMS.